Jet Ski Excursions Agadir
When it comes to exhilarating water activities, Agadir stands out as a prime destination for adventure seekers. One of the most thrilling and fun-filled experiences you can have in this Moroccan coastal city is jet skiing. Agadir Jet Skiing offers an exciting blend of adrenaline, water splashes, and breathtaking views. In this article, we will dive deep into the world of Jet Ski Rental in Agadir, Watersports Agadir, Agadir Beach Jet Ski, and everything else you need to know to make the most of your aquatic adventure.
The Agadir Jet Skiing Experience
Jet Ski Rental Agadir: Choose Your Ride
Your journey into the world of jet skiing begins with selecting the perfect watercraft. Agadir offers various options for Jet Ski Rental, ensuring there's something for everyone, from beginners to experienced riders. Whether you're in the mood for a solo ride or want to share the adventure with a friend, Agadir has you covered.
Jet Ski Gallery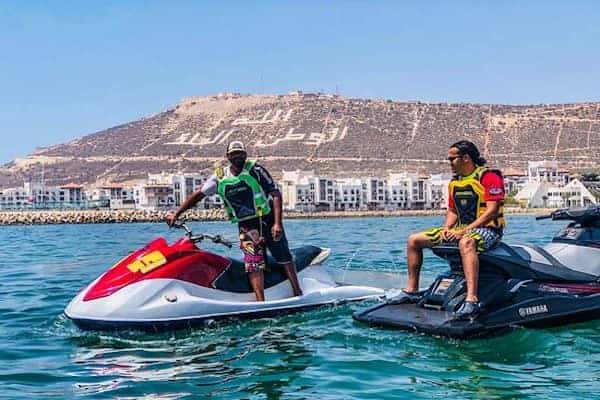 Watersports Agadir: Beyond Jet Skiing
Agadir is not just about Jet Skiing; it's a hub for various Watersports. From paddleboarding to windsurfing, you can explore a plethora of activities that promise excitement and adventure. Watersports enthusiasts will find themselves in paradise as they dive into the crystal-clear waters of Agadir.
Agadir Beach Jet Ski: Riding the Waves
The stunning Agadir beach is the ideal backdrop for your Jet Ski adventure. Feel the wind in your hair as you ride the waves, with the warm sun above and the cool ocean below. The combination of natural beauty and the thrill of speed creates an experience you won't soon forget.
Jet Ski Adventures Agadir: Explore the Coast
Agadir offers Jet Ski Adventures that take you on a journey along the picturesque Moroccan coast. From hidden coves to stunning cliffs, you'll have the opportunity to explore the rugged beauty of the region. These adventures are not just about speed; they're about discovering the hidden gems of Agadir's coastline.
Agadir Water Recreation: More Than Just Jet Skiing
Agadir isn't limited to Jet Skiing; it's a paradise for water recreation. Whether you're into snorkeling, parasailing, or even sea scooter rides, there's no shortage of aquatic fun waiting for you. The waters of Agadir offer a playground for thrill-seekers.
Jet Ski Excursions Agadir: Guided Adventures
For those who want a guided experience, Jet Ski excursions in Agadir provide a fantastic option. Knowledgeable guides will take you on a journey, ensuring you make the most of your adventure while staying safe. These excursions often include stops at hidden beaches and snorkeling spots.
Agadir Beach Activities: Fun in the Sun
Besides water sports, Agadir Beach offers a range of activities to enjoy in the sun. From beach volleyball to picnics, you can round out your day with some relaxed fun after your Jet Ski adventure.
Agadir Sea Adventures: Dive into the Deep
If you're an adventure enthusiast, Agadir's sea adventures will surely delight you. Consider options like scuba diving and deep-sea fishing to explore the underwater world and marine life in the region.
Jet Ski Tours Agadir: Sightseeing with a Twist
Agadir Jet Ski Tours are perfect for those who want to combine sightseeing with adventure. These tours often include stops at iconic landmarks, providing a unique way to explore the city.
Agadir Beach Sports: Get Active
For those who like to stay active, Agadir Beach Sports offer various options. From beach soccer to Frisbee, you can enjoy a game or two right on the beach.
Watercraft Rental Agadir: Options Galore
Besides Jet Skis, Agadir offers various watercraft for rental. From paddle boats to kayaks, you can choose a mode of water transportation that suits your preference.
Agadir Coastal Jet Ski: A Thrilling Ride
The coastal jet ski experience in Agadir is unmatched. The combination of stunning landscapes and the thrill of a high-speed ride makes for an unforgettable adventure.
Jet Skiing Morocco: Beyond Agadir
While Agadir is a prime spot for jet skiing in Morocco, the adventure doesn't stop there. Explore other coastal cities and their unique offerings for Jet Skiing and watersports.
Agadir Ocean Thrills: Heart-Pounding Fun
For adrenaline junkies, Agadir offers a range of ocean thrills. Parasailing and wakeboarding are just a couple of the options that will get your heart racing.
Sea Scooter Agadir: Beneath the Surface
Discover the underwater world of Agadir with a sea scooter adventure. These motorized underwater scooters offer a unique way to explore the marine life of the region.
Agadir Aquatic Fun: Entertainment for All
Agadir's aquatic fun isn't limited to a specific age group. It's an activity for everyone, from families with kids to groups of friends looking for a day of fun.
Jet Ski Riding Agadir: A Must-Try
If you're in Agadir, jet ski riding is a must-try activity. The combination of natural beauty and adrenaline-pumping speed is a recipe for a fantastic time.
Watersport Activities Agadir: A Hub for Adventure
Agadir has established itself as a hub for watersport activities in Morocco. With an array of choices, you'll have the opportunity to mix and match activities for a day filled with adventure.
Agadir Watersports Center: Your Gateway to Fun
Agadir Watersports Center serves as your one-stop shop for all your aquatic adventure needs. From equipment rental to guided tours, they have it all.
Agadir Beach Thrills: Unforgettable Moments
Whether you're riding the waves on a Jet Ski or exploring underwater wonders, Agadir promises a beach adventure filled with thrills and unforgettable moments.
Jet Skiing Experience Agadir: Unleash Your Inner Adventurer
Agadir offers a Jet Skiing experience that allows you to unleash your inner adventurer. It's a chance to break free from the routine and dive into a world of excitement.
Agadir Water Sports Tours: Discover the Best
To make the most of your Agadir water adventure, consider taking a water sports tour. These tours often include a mix of activities, ensuring you get the best of what the region has to offer.
Adrenaline Jet Ski Agadir: Get Your Heart Racing
For those seeking a rush of adrenaline, Agadir's Jet Ski adventures will get your heart racing. The combination of speed and stunning landscapes is unbeatable.
Agadir Jet Ski Safaris: Explore and Thrill
Jet Ski safaris in Agadir offer the perfect blend of exploration and thrill. You'll be taken to scenic spots that are otherwise inaccessible, making for a memorable experience.
Conclusion
Agadir Jet Skiing and the wide range of aquatic adventures in this coastal city offer a perfect blend of adrenaline and natural beauty. Whether you're a solo traveler, a family, or a group of friends, there's something for everyone to enjoy. Don't miss the chance to make unforgettable memories on the waters of Agadir.