Of all the wonderful sights awaiting me in Morocco – the sands of the Sahara, the sunsets of Essaouira, the red-mud Berber towns of the Atlas Mountains – there was a less obvious spectacle that I was perhaps more excited about seeing.
I don't know why the thought of witnessing the tree-climbing goats of Morocco got me so giddy, but having spotted the, quite frankly hilarious 'phenomenon' on various websites, I was determined to track them down. Which, with Morocco being a pretty huge country, might have proved a challenge. Especially as I only had a couple of weeks there and a pretty tight itinerary built around visiting some of the more classic attractions. Rather than goats. In a tree.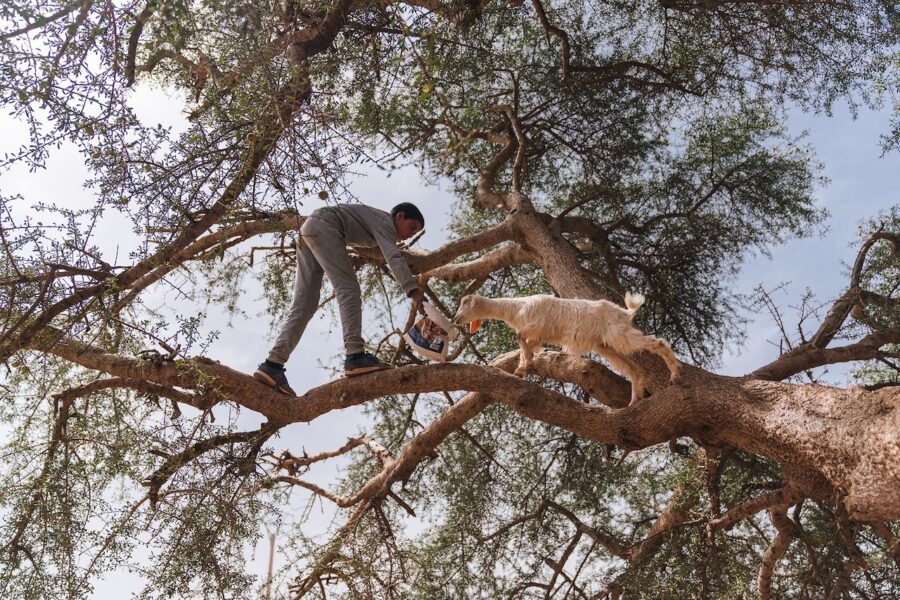 Fortunately, it turned out to be a lot easier than I thought.
A bit of pre-travel research told me the tree-loving goats were endemic to the south west of Morocco. And that I might have some joy finding them between Agadir and Essaouira. The latter coastal town being where I was to spend my final few days in the country. Which was handy.
So I was fully prepared for hiring a driver from Essaouira to take me goat-hunting for a day.
But I didn't even have to go to that effort.
My sighting came as a pleasant surprise simply travelling from Marrakech to Essaouira.
The two and a half hour journey between the cities pretty much follows one straight road, the N8. It's an extremely easy trip to make.
About two hours into my journey our driver told us we were now in 'Argan Country' and pointed out that all the trees lining both sides of the road were argan trees.
These Argania bear the argan nut, from which the now famous beauty product of argan oil is made.
Turns out these argan nuts are pretty appealing to goats too. Because shortly after declaring we were in the argan region, our driver was excitedly pointing out a strange-looking tree ahead. A tree is full of, yep – goats!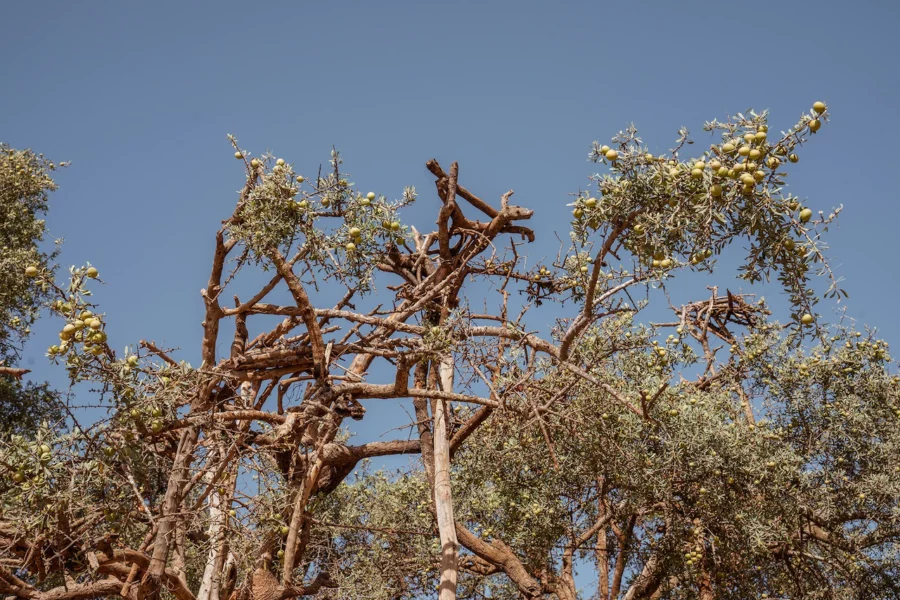 It was as easy as that. No detours, turn-offs or intrepid goat-finding required. I was just making my way from Marrakech to Essaouira and there they were, along the main route, right beside the main N8 road. My goats in trees.
ARGAN TREE-CLIMBING GOATS
We pulled over to take a closer look and I'm pleased to announce seeing them in real life is every bit as funny as I'd imagined. Probably more so. It's bloody hilarious.
Some of the goats looked petrified, bleating and balancing precariously on the tree's branches. Others seemed more at ease, just chilling out and happily munching away on the argan fruit. All eight of them looked like they could fall out or break a branch at any minute.