Explore Imi Ouaddar with Thrilling ATV and Quad Biking Adventures
Nestled in the heart of Morocco, Imi Ouaddar is a hidden gem for thrill-seekers looking to embark on all-terrain adventures. Whether you're an ATV enthusiast or a first-time quad biker, this coastal paradise offers a myriad of experiences that will leave you spellbound. In this blog, we will guide you through the best quad biking experiences Imi Ouaddar has to offer.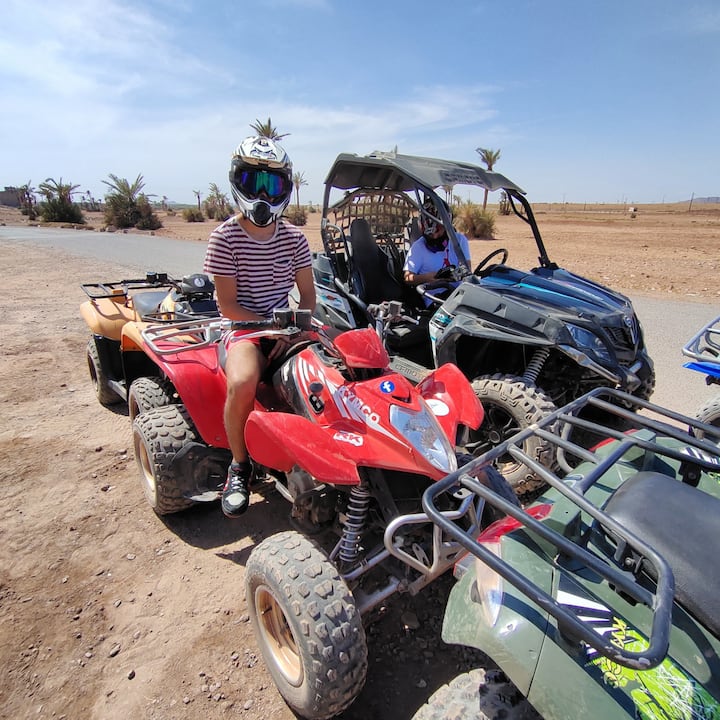 Price Includes
Hotel pick-up from Imi Ouaddar and Taghazout
Hotel drop-off in Imi Ouaddar and Taghazout
Air-conditioned transportation
Quad bike along the ocean, through Berber villages and Atlas mountain routes.
Quick Quad orientation
60 minutes Quad biking
​Safety equipments: Helmet and goggles
​ ​Food and drinks​
Gallery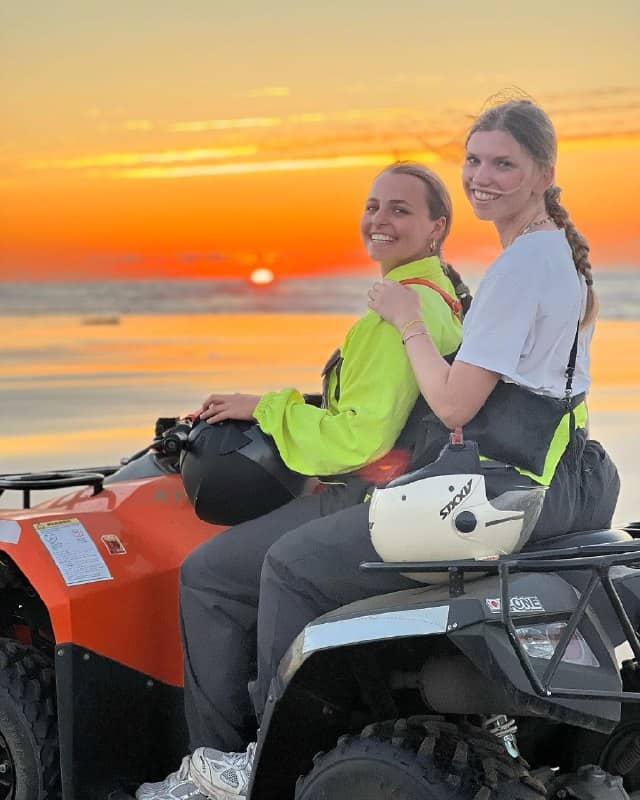 All-Terrain Adventure at Its Best
ATV Adventures in Imi Ouaddar
For those who crave an adrenaline rush, Imi Ouaddar presents a playground of rugged terrain. Hop on an ATV and conquer the untamed landscapes, from vast sand dunes to rocky outcrops. Our ATV adventures in Imi Ouaddar guarantee an exhilarating experience you won't soon forget.
Quad Biking Experiences in Imi Ouaddar
Quad biking in Imi Ouaddar is the ultimate way to explore the coastal beauty of this region. Zoom across the golden sands, enjoy the cool ocean breeze, and witness stunning sunsets that will take your breath away. Our quad biking experiences cater to riders of all skill levels.
Thrilling Rentals and Tours
4-Wheeler Rentals in Imi Ouaddar
Don't have your own ATV or quad bike? No problem! Imi Ouaddar offers a wide range of 4-wheeler rentals, allowing you to choose the vehicle that suits your adventure. Explore at your own pace and discover the hidden treasures of Imi Ouaddar.
Off-Road Quad Biking in Imi Ouaddar
Imi Ouaddar is renowned for its off-road quad biking trails. Challenge yourself with terrains that vary from soft sands to rocky paths. These off-road adventures are perfect for thrill-seekers and those looking for an offbeat exploration.
Guided Tours and Safaris
Quad Bike Tours in Imi Ouaddar
Embark on an exciting journey with our quad bike tours. Led by experienced guides, you'll traverse the most picturesque routes while learning about the history and culture of Imi Ouaddar. It's an adventure that combines excitement with education.
Desert Quad Biking in Imi Ouaddar
The desert quad biking experience in Imi Ouaddar is second to none. Explore the mesmerizing Sahara Desert, ride over the dunes, and create memories that will last a lifetime. Our desert quad biking adventures promise an unforgettable escape.
Imi Ouaddar Quad Biking Excursions
Dune Quad Biking in Imi Ouaddar
Immerse yourself in the striking dunes of Imi Ouaddar with our dune quad biking excursions. Feel the thrill as you conquer the sandy peaks and soak in the stunning panoramic views of the coastline. It's a dream adventure for sand dune enthusiasts.
ATV Off-Roading in Imi Ouaddar
Take your ATV for an off-roading adventure like no other. Imi Ouaddar's diverse landscape is your playground. From the beachfront to the desert, this off-roading experience will satisfy your craving for adventure.
Unforgettable ATV Experiences
Imi Ouaddar Sand Dune Quads
The pristine sand dunes of Imi Ouaddar are a paradise for quad bike enthusiasts. Ride through the silky sands and let the beauty of the desert captivate your senses. Our sand dune quads are your ticket to an extraordinary experience.
Quad Bike Safaris in Imi Ouaddar
Embark on a quad bike safari and witness the rich biodiversity of Imi Ouaddar. Encounter unique flora and fauna as you venture deep into the desert. This safari is perfect for nature lovers and adventure seekers.
Discover Imi Ouaddar with Us
Imi Ouaddar ATV Off-Roading
Get ready for an adrenaline-pumping ATV off-roading experience in Imi Ouaddar. Explore the off-the-beaten-path trails and savor the freedom that comes with conquering challenging terrains.
Imi Ouaddar Quad Biking Rentals
Imi Ouaddar boasts a wide range of quad-biking rentals. Choose from our fleet of well-maintained quad bikes and set off on your adventure. Safety is our priority, ensuring you have a fantastic experience.
Imi Ouaddar Quad Biking Adventures
Imi Ouaddar Dune Buggy Adventures
If you prefer a more relaxed but equally exciting adventure, try our dune buggy adventures. These two-seater vehicles are perfect for couples and friends looking to explore Imi Ouaddar together.
Imi Ouaddar Outdoor ATV Rides
Imi Ouaddar's beautiful outdoor terrain invites you to enjoy ATV rides in the midst of nature's splendor. Create your own adventure story as you explore this breathtaking coastal town.
Frequently Asked Questions (FAQs)
Q1: Is quad biking in Imi Ouaddar safe for beginners?
A1: Yes, Imi Ouaddar offers guided tours and rentals suitable for all levels, including beginners. Our experienced guides ensure safety and provide training.
Q2: What should I wear for quad biking in Imi Ouaddar?
A2: Wear comfortable clothing, closed-toe shoes, and sunscreen. Helmets and safety gear will be provided.
Q3: Are there age restrictions for quad biking in Imi Ouaddar?
A3: Age restrictions may vary by tour operator, but many allow riders as young as 12 with parental consent.
Q4: When is the best time to visit Imi Ouaddar for quad biking?
A4: The best time is during the spring and autumn when the weather is pleasant. Summer can be hot, and winter nights can be chilly.
Q5: Are reservations required for quad biking tours?
A5: It's recommended to make reservations in advance, especially during the tourist season.
Conclusion
Imi Ouaddar, with its picturesque landscapes and thrilling quad-biking adventures, is a destination that promises the perfect blend of excitement and natural beauty. Whether you're a seasoned rider or a newbie, the experiences available here cater to all. The stunning dunes, rugged terrains, and the vast Sahara Desert provide an unforgettable backdrop for your journey.
Don't miss the chance to explore Imi Ouaddar in a way like never before. Book your ATV or quad-biking adventure today and get ready for an exhilarating escapade in this coastal paradise. Imi Ouaddar is waiting to be discovered, one thrilling ride at a time.